As breeders, enthusiasts and agriculturists, we know youth are the future of our industry. To better serve & support our youth members, the FSFF is happy to announce the creation of the FSFFjr Educational Scholarship!
In Oct 2016, Brink Simmentals/Robinson Cattle Co., Rugged R Cattle Co., S/M Fleckvieh Cattle, and Stanley Martins Farms each donated frozen genetics lots to Little Creek Farm's Magnolia Classic sale. 100% of the proceeds generated by these 4 special lots were used to establish the FSFFjr scholarship fund.
In November 2017, we will award our very first $1,000 scholarship to an applicant who has been a FSFFjr member for at least the past 2 years and who is at least a senior in high school (or equivalent) during the 2017-2018 school year! Scholarships will be awarded yearly to qualifying applicants worldwide. The application lists all requirements and is available below. The annual application deadline is September 1 of each calendar year.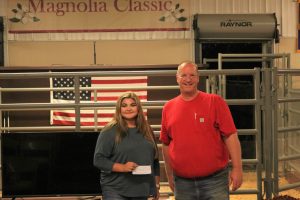 Logan Smith of Log Land Farms was awarded the 2020 FSFF JR Scholarship by Chairman Randy Plaugher at the Magnolia Classic Sale October 2020.  Logan is an outstanding young lady and a great representative for the FSFF and the Fleckvieh breed.  Congratulations Logan!