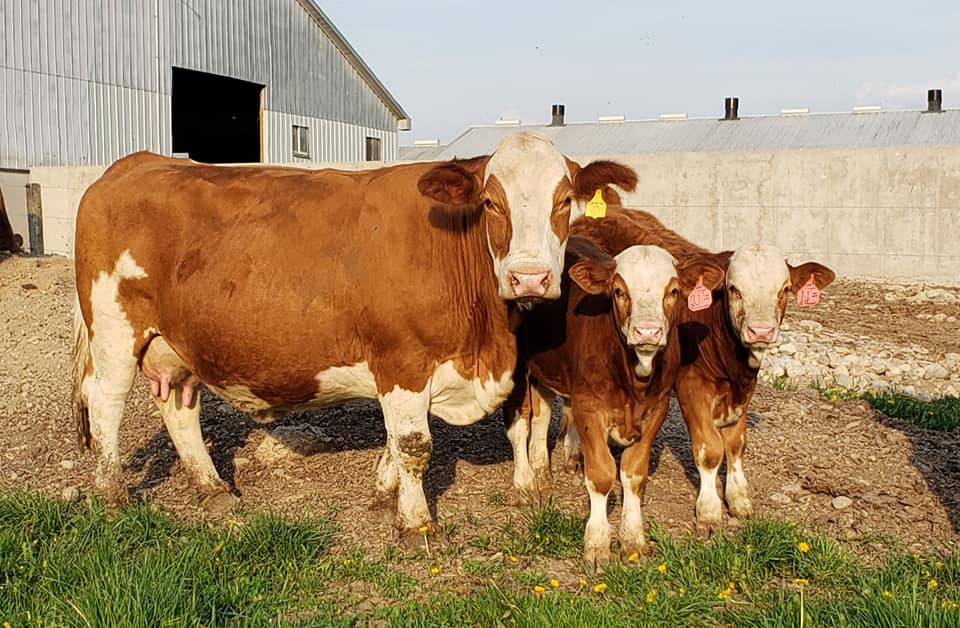 About the Fleckvieh Cattle Breed
---
The Fleckvieh cattle breed originated in central Europe as a dual-purpose strain of Simmental cattle. They were rigorously selected, not only for providing beef, but also milk production. The breed history dates back to the 1830's.
FULLBLOOD FLECKVIEH CATTLE OF TODAY
---
Modern Fullblood Fleckvieh Simmental cattle are the most universal breed in the world. They offer much needed economically relevant traits to the gene pool of beef cattle today:
Increased heterosis
Increased maternal traits
Increased growth
Calving ease and calf vigor
Moderate frame and easy fleshing
Excellent fertility
Superb longevity
Polled and horned genetics
Diverse genetic pool
Highly environmentally adaptable
No known genetic defects
Dedicated progressive breeders
Ideal foundation for Simbrah
Fleckvieh Federation
---
The Fullblood Simmental Fleckvieh Federation (FSFF) operates to develop & promote the Fullblood Simmental & Fullblood Fleckvieh breeds of cattle worldwide. To meet these objectives, the FSFF will initiate & participate in programs to educate beef producers of the important economic traits of Simmental & Fleckvieh cattle, will promote & encourage the use of Simmental & Fleckvieh beef cattle genetics, and will work to market the breeds worldwide to both purebred and commercial beef producers.
The FSFF is not a registry association but will cooperate with the American Simmental Association, the Canadian Simmental Association, and other similar registry associations for Simmental and Fleckvieh cattle breeds worldwide.
We would love to hear from you! Please contact any of the FSFF Board of Directors & Officers or the FSFF Coordinator at your convenience. The FSFF can also be found on Facebook.
Join the FSFF or FSFFjr Membership!
Help us in our endeavor to promote the use of Fullblood Simmental Fleckvieh genetics worldwide!
Check out the latest news & upcoming events from the Fleckvieh Federation. Keep an eye on this page for updated information regularly.
For More Information:
---
Contact our Coordinator
or
Click the online breeders tab for breeders in your area